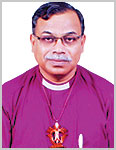 Alexandra School has rightly earned a place of privilege distinction in the realm of Academic excellence. The distinctive feature of the School system is that it seeks to balance learning with other achievements and opportunities. The aim of Alexandra is to provide a first class academic holistic education in an atmosphere that is both humane and cultured.

Alexandra is a school proud of its glorious past and conscious of the need to prepare the students for a life of leadership, service and personal fulfilment in the twenty first century.
It is my earnest hope that it sufficiently explains the reasons for your child being nurtured in the Alexandra environs.
The MOST Rev. P.K. Samantaroy
Do You Have Any Question About Alexandra School?
Phone & Email: Contact us through our Email for your queries or you can also have a call at this mobile number: (+91) 0183-2210211