History & Heritage
Rev. Robert Clark of Church Missionary Society. London, founded Alexandra (High) School in 1878, so that the girls of Punjab could receive the highest and the best education. Lady Mountbatten and Lady Trivedy were among the several distinguished visitors of the school. The school was named ALEXANDRA in the honor of Princess of Wales, Alexandra (1 December 1844-20 November 1925).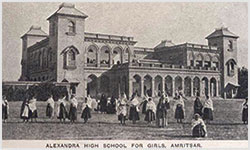 This School is situated on 13 acres of lush green land and provides conducive, open and supportive academic atmosphere-"A bond of All Round Excellence". The School provides quality education and aims at development of the child's personality. It has excellent sports facility and is well equipped with the latest teaching aids in order to broaden the scope of higher education for meritorious students. Since 1999 its affiliation has been changed from P.S.E.B to I.C.S.E. A separate wing for Boys was started in April 1996, which has become a full-fledged School in itself. This historical monument under Church of North India is being run by Diocese of Amritsar (C.N.I) Rt. Rev. P.K. Samantaroy, the Bishop Diocese of Amritsar is the Chairman of the School.
Vision of the School
To make Alexandra School a place where exploration, creativity, and imagination make learning exciting and where all learners aspire to reach their dreams.
Our Misiion
Our aim is to enable boys and girls to develop their individual potential through exposure to a holistic range of academic, sporting, creativ and cultural activities. Our primary goal is for our students to acquire the Knowledge, skills and attitudes needed to produce well-adjusted, self-confident young boys and girls prepared for the academic, social and life challenges of the future.
Do You Have Any Question About Alexandra School?
Phone & Email: Contact us through our Email for your queries or you can also have a call at this mobile number: (+91) 0183-2210211